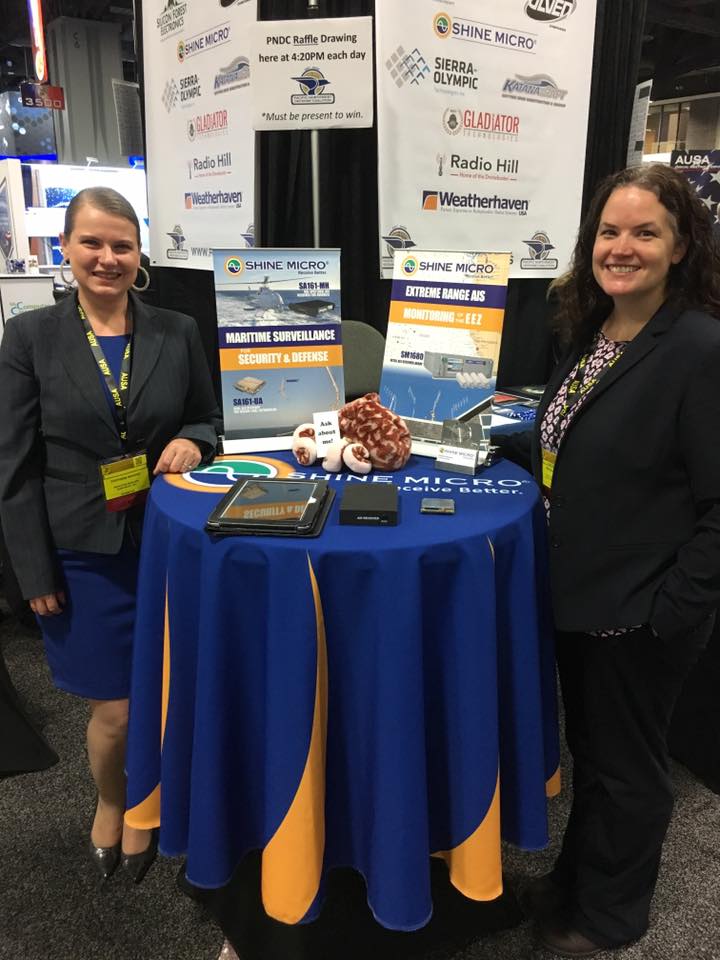 Shine Micro, Inc., an international leader in Automatic Identification System (AIS) technology, exhibited at the 2017 Association of the U S Army (AUSA) Annual Meeting and Exposition with the Pacific Northwest Defense Coalition (PNDC).
Purpose
Situational awareness is a top priority for the US Army.  Shine Micro AIS receivers enable the detection, identification, and monitoring of maritime traffic; providing relevant details to inform the decisions of leadership.
Features
Shine Micro products featured at the AUSA exposition included:
SA161-MH MIL-Spec Dual AIS Receiver for avionics
SA161-UA Dual AIS receiver for board-level integration
SM1680 Octal AIS Receiver Array
The SM1680 "Octopus" facilitates AIS monitoring of the 200 NM Exclusive Economic Zone (EEZ) offshore from a terrestrial base station; without a satellite subscription service.
AUSA
The Association of the United States Army is a nonprofit educational and professional development association serving America's Total Army, Soldiers, Army civilians and their families, industry partners, and supporters of a strong national defense. The AUSA Annual Meeting is the largest land-warfare exposition in the United States.
PNDC
The Pacific Northwest Defense Coalition (PNDC) is the association for Northwest defense and security industry businesses.  PNDC focuses on strengthening our members' business growth, our region's economy, and our nation's security through training, one-on-one counseling, business-to-business networking, and advocacy.
SHINE MICRO
Shine Micro designs and manufactures high-sensitivity AIS receivers for real-time, persistent monitoring applications including Maritime Domain Awareness, Asset Tracking and Analytics, Intelligence and Surveillance, Traffic Management, Search and Rescue, Environmental Protection, and more.
Better Data = Better Decisions.  Shine Micro: Receive Better.
—
Stephanie Nevarez
Marketing Manager
Shine Micro, Inc.
360-437-2503 phone
360-437-2483 fax
snevarez@shinemicro.com