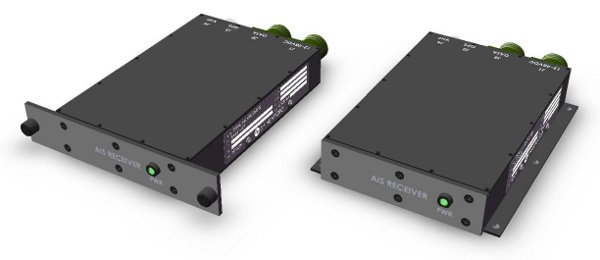 Overview
The RadarPlus® SA161-MH is a globally-deployed, industry-proven AIS receiver for aircraft.
Over 250,000 ships worldwide transmit position and identity information via the Automatic Identification System (AIS). Increased AIS tracking range and concentration is achieved by Shine Micro AIS receivers for aircraft. Industry-leading sensitivity is attained through Shine Micro exclusive I/Q Synchronous demodulator technology, facilitating superior reception of noisy, weak signals.
Enclosed in a fully-shielded and NVIS-compatible aluminum case, the SA161-MH is rugged, light weight, corrosion resistant, and capable of high altitude operation over a wide temperature range. Mounting options include a Type 1 Aircraft Dzus Rail or a bottom flange mount.
The SA161-MH features dual outputs via Ethernet and RS-232. Both may be utilized to receive data from the device simultaneously. The Ethernet module is configurable as TCP server, TCP client, UDP point-to-point, or UDP broadcast.
Highlights
• High Sensitivity
• MIL-Spec Construction
• Low Power Consumption
• Integrated 12-Channel GPS
• Superior RF Input Protection
• High Altitude Operation
• Wide Operating Temperature Range
• Exclusive Shine Micro Enhanced Signal Processing Software (ESP)
The Shine Micro companion product ST162-T1 AIS Test Set is recommended for optimization
of AIS equipment and installations prior to deployment.
The SA161-MH and ST162-T1 are COTS equipment and standard options on Lockheed Martin/Sikorsky MH-60 Helicopters, Lockheed Martin P3 and Boeing P8 aircraft, Insitu
Integrator™ UAS, and many others.
RadarPlus® SA161-MH – High Sensitivity Dual AIS Receiver for Aircraft
System Specifications
Designation: Dual AIS Receiver
Serial interface: Ethernet interface and RS232 output
Power Supply 15-28 VDC
Power Consumption: Typical: 5 watts, Max: 16 watts
Temperature Range: -15 to +70° C Standard
-40 to +70° C Extended Temperature Option
Altitude: 0 to 70,000 ft.
Compass Safe Distance: 1 meter
Serial Interface Details
The serial interface of the SA161-MH conforms to ITU-R M. 1371- 4 and NMEA 0183 data protocol with additional proprietary sentences. Received AIS messages are reported using the NMEA 0183 VDM sentence. GPS position data is reported using the GGA, ZDA and VTG NMEA 0183 sentences. Data is simultaneously output via RS232 and Ethernet. The Ethernet module is configurable as TCP server, TCP client, UDP point to point, or UDP Broadcast at 10/100 Mbps.
To request full serial interface specifications, please contact us or call Shine Micro at (360) 437-2503.
Approximate Weights and Dimensions
SA161-MH-00-XX-X
Dzus Rail Mount*
SA161-MH-01-XX-X
Flange Mount
Max. Width
5.750 in.
4.750 in.
Max. Length
7.301 in.
7.217 in.
Max. Height
1.125 in.
1.125 in.
Weight
< 1.25 lbs.
< 1.20 lbs.
*Face Plate: Type I Aircraft (SS7000-1) Dzus Rail
Frequencies and Channel Bandwidth
RX AIS1: 161.975 MHz at 25 kHz
RX AIS2: 162.025 MHz at 25 kHz
Connectors
Power: D38999 / 20WB98SA
Data: D38999 / 20WB35SN
GPS Antenna: female TNC
AIS Antenna: female Type N
AIS Receivers
AIS Data Rate: 9,600 bits/s (RF Input)
Sensitivity: PER < 20% @ -115 dBm
Co-channel Rejection: -10 dB
Adjacent Channel Selectivity: 70 dB
Blocking: 84 dB
Intermodulation: 74 dB
Large Signal PER: 1% or better
Image Rejection: 70 dB
Spurious Rejection: 70 dB
Indicators
NVIS-compatible Power/Status LED
Enhanced Signal Processing
Enhanced processing features include:
Received Signal Strength Indication
Slot Numbering
VDL Loading
Ambient Noise Measurement
Packet Time of Arrival
MIL Standards
MIL-HDBK-217F: MTBF Environment: ARW (airborne rotary winged) MTBF @ -40C = 50,298 hrs, +25C = 49,797 hrs, +85C = 15,622 hrs
MIL-STD-704F - 28VDC
MIL-STD-704A - 28VDC
MIL-STD-461E - CE101
MIL-STD-461E - CE102
MIL-STD-461E - RE101
MIL-STD-461E - RE102
MIL-STD-461E - CS101
MIL-STD-461E - CS114
MIL-STD-461E - CS115
MIL-STD-461E - CS116
MIL-STD-461E - RS101
MIL-STD-461E - RS103
MIL-STD-810E - 501.3
MIL-STD-810E - 502.3
MIL-STD-810E - 507.3
MIL-STD-810E - 513.4
MIL-STD-810E - 514.4
MIL-STD-810E - 514.5
MIL-STD-810E - 516.4
MIL-STD-810E - 520.3
MIL-STD-810F - 507.4
MIL-STD-810F - 509.4
Warranty Information
Shine Micro warrants its products to be free from defects for one full year from the date of purchase. Shine Micro will, at its sole discretion, repair or replace any components that fail in normal use. Labor and material costs for such repairs or replacement will be free of charge. This warranty does not cover failures due to abuse, misuse, accidents, or unauthorized alterations or repair.