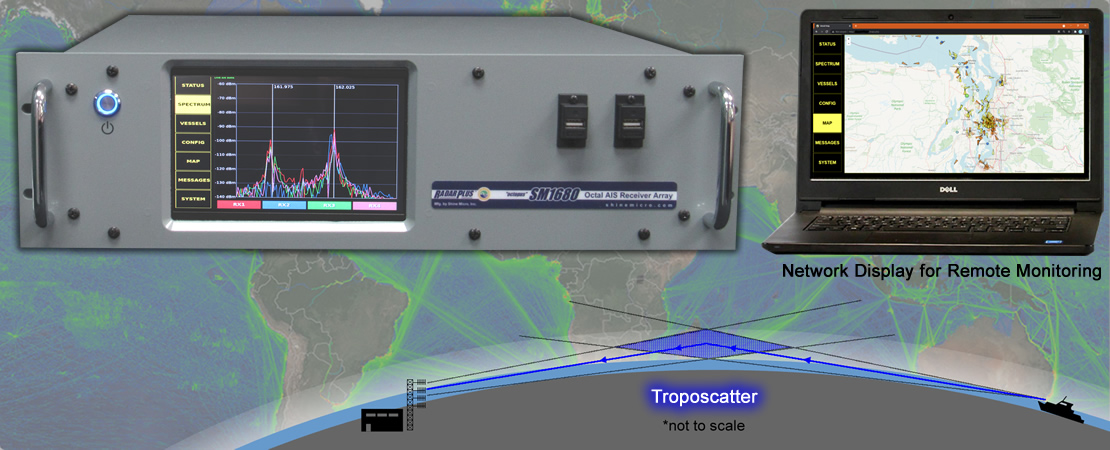 Overview
The SM1680 achieves over the horizon 200 NM* EEZ AIS monitoring from a shore station.
With four synchronized receivers on each AIS channel, the SM1680 is a Software Defined Radio (SDR) that utilizes troposcatter to achieve extended-range Exclusive Economic Zone (EEZ) AIS monitoring without the cost, latency, or other limitations of satellites.
*Individual site performance will vary based on factors such as elevation, topography, and interference.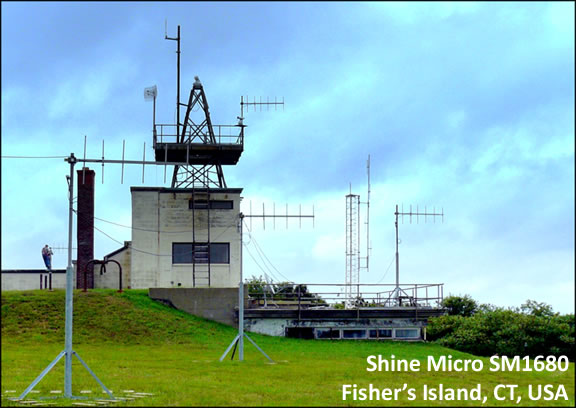 New for 2022
Enhanced performance
More rugged and reliable
Larger touchscreen
Network display for remote access
Fan-less enclosure
13.6 VDC input for solar/battery installations
RadarPlus® SM1680 – Over the Horizon AIS Monitoring
50 NM range rings from Columbia River Bar Pilots Association, Astoria, OR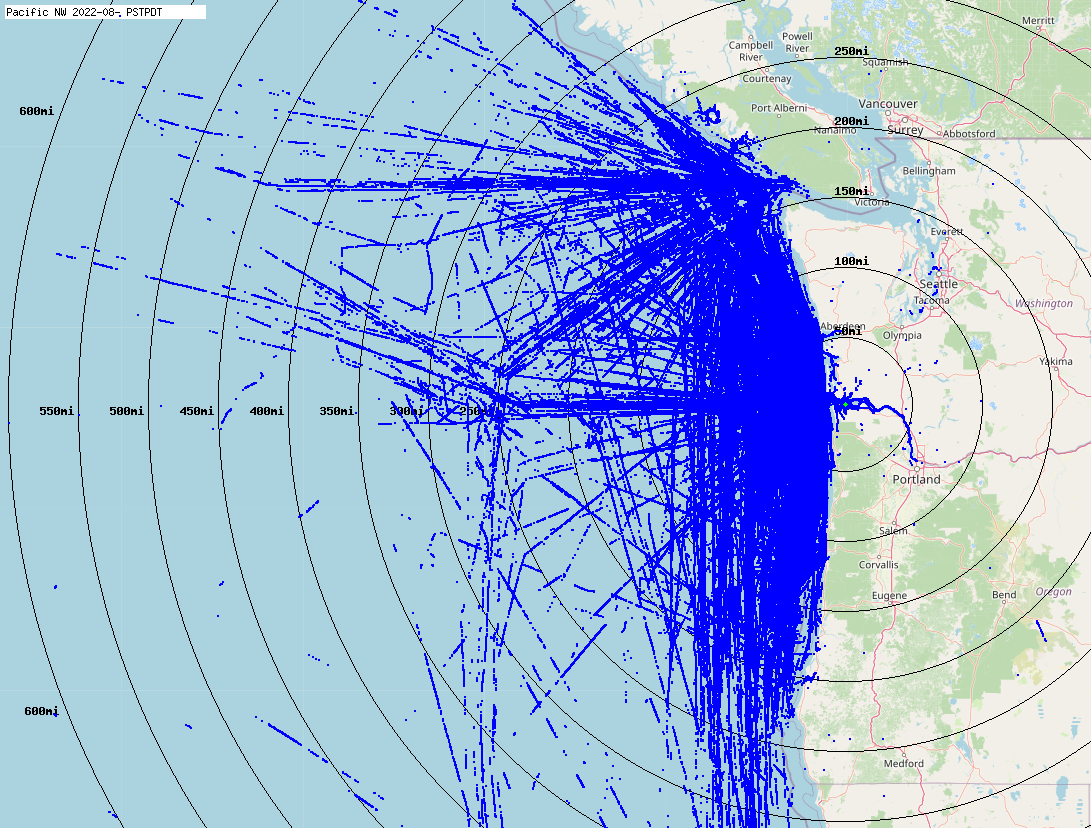 Click the map for Live AIS Coverage!
System Specifications
Designation: AIS RX base station
per ITU R M.1371-5
Interface: TCP/IP Ethernet
Power Requirement: 13.6 VDC
100-240 VAC 50/60 Hz to 13.6 VDC power supply included
Power Consumption: <45 watts
Temperature Range: -15 to +55 degrees C.
AIS Receivers
AIS Data Rate: 9,600 bps
Individual Receiver Sensitivity: ≤20% PER @ –119 dBm w/ SM1680 LNAs
System Sensitivity: ≥ -125 dBm or better
Adjacent Channel Selectivity: 70 dB
Blocking: 86 dB
Intermodulation: 74 dB
Large Signal PER: 1% or better
Image Rejection: 70 dB
Spurious Rejection: 70 dB
Antenna Interface: Type N female
Dimensions and Weights
Width: 19" rack mount
Depth: 17.25"
Height: 5.25" (3U)
Weight: 36 lbs.
Frequencies and Channel Bandwidth
RX AIS1: 161.975 MHz at 25 kHz
RX AIS2: 162.025 MHz at 25 kHz
Full Color Touchscreen Display
SM1680 Status
4-channel Spectrum Analysis
Vessel Statistics
Password-Protected Configuration
Interactive Received-Vessel Map
Raw AIS Messages
Receiver System Statistics
LNA Specification
Enclosure: IP67 Environmental Protection against Dust and Water
Connector: Type N female
Frequency: 162 MHz
Noise Figure: < 2 dB
Gain: > 20 dB
Power Supply: Coax Bias
Input Protection: Multi-Stage Pin Diode
Navigation Specifications
Multi-GNSS disciplined time, frequency and position standard
GPS antenna interface: SMA female
Frequency Standard: 6 ppb
Serial Interface Details
The serial interface of the SM1680 conforms to ITU R M.1371-5 and NMEA 0183 V4.0 with additional proprietary sentences. 
For full serial interface specifications, please contact us or call Shine Micro at (360) 437-2503.
Warranty Information
Shine Micro warrants its products to be free from defects for one full year from the date of invoice. Shine Micro will, at its sole discretion, repair or replace any components that fail in normal use. Labor and material costs for such repairs or replacement will be free of charge. This warranty does not cover failures due to abuse, misuse, accidents, or unauthorized alterations or repair.