Overview
The RadarPlus SM1610-4 is an enhanced, long range dual AIS receiver with industry-leading sensitivity and a frequency-matched Low Noise Amplifier (LNA), in a rugged weather-resistant chassis.
The SM1610-4 is standard equipment for both the US Navy and US Coast Guard, providing industry-leading AIS reception, sensitivity, and monitoring range. The SM1610-4 also includes VDL analysis capabilities; making it a valuable tool for port administrations.
The wide adoption of AIS has caused frequency congestion in many ports. The SM1610-4 provides analysis tools to measure the health of the VDL, and aid in determining the total number of slots used, garbled packets, and packet collisions. Defective or malfunctioning AIS devices degrade the success of an entire AIS environment; identifying non-compliant transponders is key to a healthy system.
The SM1610-4 also enables administrations to monitor AIS transponders for IMO1252 compliance. The SM1610-4 measures frequency, deviation and slot timing (jitter) of every packet received; quickly pinpointing suspect transponders for inspection. On-site inspections are time consuming and expensive for everyone; remote inspections using the SM1610-4 can save time and money.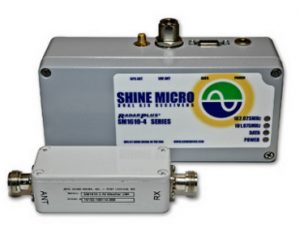 Features
 New VDL Analysis Reports

Number of active slots per frame

Garbled packets per frame
Packet collisions per frame
% VDL utilization
Frequency deviation and slot timing (jitter) monitor

High bandwidth 230.4 kbps serial connection
Wide selection of serial port speeds
PC configuration manager
SM1610-2 backwards compatibility
System Specifications
Designation: AIS RX base station per ITU R M.1371-4
Serial interface: RS232 (standard)
Baud Rates: 38.4, 115.2, 230.4 kbps Ethernet and IEC 61162 are optional
Power Requirements: 12-30 VDC or 120-240 VAC
Power Consumption: < 3 watts
Temperature Range: -15 to +55 degrees C.
Compass Safe Distance: 1 meter
Environmental: IP64 Compliance
Serial Interface Details
The serial interface of the SM1680 conforms to ITU R M.1371-5 and NMEA 0183 V4.0 with additional proprietary sentences.
For full serial interface specifications, contact us or call Shine Micro at (360) 437-2503.
Dimensions and Weights
Width: 3.15 in.
Length: 6.89 in.
Height: 2.25 in.
Weight: < 2 lb.
Frequencies and Channel Bandwidth
RX AIS1: 161.975 MHz at 25 kHz
RX AIS2: 162.025 MHz at 25 kHz
Navigation Specifications
12 channel internal Global Positioning System (GPS)
GPS antenna interface: female SMA connector
Serial interface timing: UTC or Unix Time
AIS Receivers
AIS Data Rate: 9,600 bits/s
Sensitivity: <20% PER @ -119 dBm w/ SM1610-4 LNA
Co-channel Rejection: -10 dB
Adjacent Channel Selectivity: 70 dB
Blocking: 84 dB
Intermodulation: 74 dB
Large Signal PER: 1% or better
Image Rejection: 70 dB
Spurious Rejection: 70 dB
Antenna Interface: female Type N connector w/ LNA power
LNA Specification
Environmental: IP67 & MIL-STD-810F 509.4 Salt fog compliant.
Connectors: female Type N
Frequency: 162 MHz
Noise Figure: < 2 dB
Gain: >20 dB
Power Supply: Coax Bias, 5.5 VDC from Receiver
Multi-Stage input protection
Additional AIS Features
Received Signal Strength Indication (RSSI)
Ambient Noise Measurement
Packet Time of Arrival
VDL Analysis Reports
IMO1252 Inspection Tools
NMEA 0183 V4.1 tag blocks including:

Grouping
Source
Destination
Line numbering
Unix time
Warranty Information
Shine Micro warrants its products to be free from defects for one full year from the date of purchase. Shine Micro will, at its sole discretion, repair or replace any components that fail in normal use. Labor and material costs for such repairs or replacement will be free of charge. This warranty does not cover failures due to abuse, misuse, accidents, or unauthorized alterations or repair.