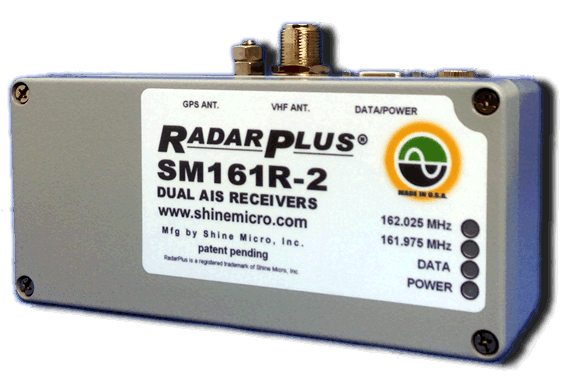 Overview
An Automatic Identification System, or AIS, is an indispensable tool for navigation and safety at sea. Information gathered by the SM161R-2 Dual AIS Receivers is more detailed than radar and enables the everyday boater to see what's coming long before it is in line of sight.
The rugged, industry standard SM161R-2 series incorporates dual stage RF input protection to provide superior protection against near lightning strikes and high power transmitters. In addition, with a receiver sensitivity of -113dbm the SM161R-2 is even better than it's predecessor, SL161R.
With the addition of the embedded 12 channel GPS receiver and the optional Enhanced Signal Analysis software, supplemental diagnostic functions become available such as:
SLOT NUMBERING
PACKET TIME OF ARRIVAL
PARTIAL PACKET RECEPTION
VDL LOADING
RECEIVED SIGNAL STRENGTH INDICATION
AMBIENT NOISE MEASUREMENT
Features
The RadarPlus SM161R-2 dual AIS receiver provides:
High-sensitivity AIS data reception
Affordable low price
Hears Class A & B vessel reports
Sends the information to be mapped on a PC or chart-plotter
Less than 1 watt power consumption
AIS REPORTS:
Vessel Name
Size
Position
Course
Cargo
and More
OPTIONAL FEATURES:
Enhanced Signal Analysis Package (ESP)
Slot Numbering
Packet Time of Arrival
Partial Packet Reception
VDL Loading
Received Signal Strength Indication
Ambient Noise Measurement
Ethernet Network Capability
Connection to Live Shine Micro AIS Network
NEW AND IMPROVED:
Dual Stage RF Input Protection
Receiver Sensitivity of -113dbm
SM161R-2 Series
Brochure and Datasheet

| Product Configuration | Purchase |
| --- | --- |
| SM161R-2 Starter Bundle - with antenna, cables, and software | |
| SM161R-2 - Dual AIS Receivers | |
| SM161RG-2 - Dual AIS Receivers with GPS | |
| SM161RGN-2 - Dual AIS Receivers with GPS & Network | |
| SM161RGESP-2 - Dual AIS Receivers with GPS & Enhanced Signal Analysis | |
| SM161RGNESP-2 - Dual AIS Receivers with GPS, Network, & Enhanced Signal Analysis | |
System Specifications
Designation: Universal Automatic Identification System (AIS) Receiver
Serial RS232 Interface: female DB9 connector, see below for additional serial interface details
Power Supply: 9 to 20 V nominal
Power Consumption: Less than 1 watt
Temperature Range: -15 to +55 degrees C.
Compass Safe Distance: 1 meter
Serial Interface Details
The serial interface of the RadarPlus is a subset of IEC specification 61993-2, using a 38.4 kbps connection to a host computer. The received AIS messages are output using the VDM sentence, and GPS location data is output using the NMEA 0183 sentences. To request full serial interface specifications, please contact us or call Shine Micro at (360) 437-2503.
Dimensions and Weights
Width: 3.15 in.
Length: 6.89 in.
Height: 2.25 in.
Weight: 2 lb.
Frequencies and Channel Bandwidth
RX AIS1: 161.975 MHz at 25 kHz
RX AIS2: 162.025 MHz at 25 kHz
Navigation Specifications
12 channel internal Global Positioning System (GPS) *OPTIONAL*
GPS antenna interface: SMA connector
AIS Receivers
AIS Data Rate: 9,600 bits/s
Sensitivity: 20% PER @ -113dBm
Adjacent Channel Rejection: 70dB at 25 kHz
Blocking: 80 dB
Intermodulation: 65 dB
Large Signal PER: 0.1% or better
Image Rejection: 70 dB for 20% PER
Spurious Rejection: 70 dB for 20% PER
Antenna Interface: female Type N connector
Software Tested
The RadarPlus allows AIS enabled software to chart ship positions and descriptions in real-time. The following packages have been tested and are fully operational with the SM161R-2:
Rose Point - Coastal Explorer
ICAN - Regulus
Transas - NaviSailor
Xanatos - Titan
Nobeltec - Admiral
EuroNav - seaPro
Chyna Sea - MapTech
Enhanced Signal Analysis Package
Received Signal Strength Indication
Slot Numbering
VDL Loading
Ambient Noise Measurement
Packet Time of Arrival
Partial Packet Reception
Simple Marine Installation
Mount the SM161R-2 according to the provided mounting diagram.
Connect the power cable to a 12 volt power source.
Connect a VHF antenna to the Type N connector on the SM161R-2.
Optionally connect the serial interface cable to a PC or other AIS display device.
Warranty Information
Shine Micro warrants its products to be free from defects for one full year from the date of purchase. Shine Micro will, at its sole discretion, repair or replace any components that fail in normal use. Labor and material costs for such repairs or replacement will be free of charge. This warranty does not cover failures due to abuse, misuse, accidents, or unauthorized alterations or repair.