Introducing the ST162-T1: A portable, transmit-only AIS Test Set designed for verification and optimization of AIS receivers on aircraft, ships, and shore stations.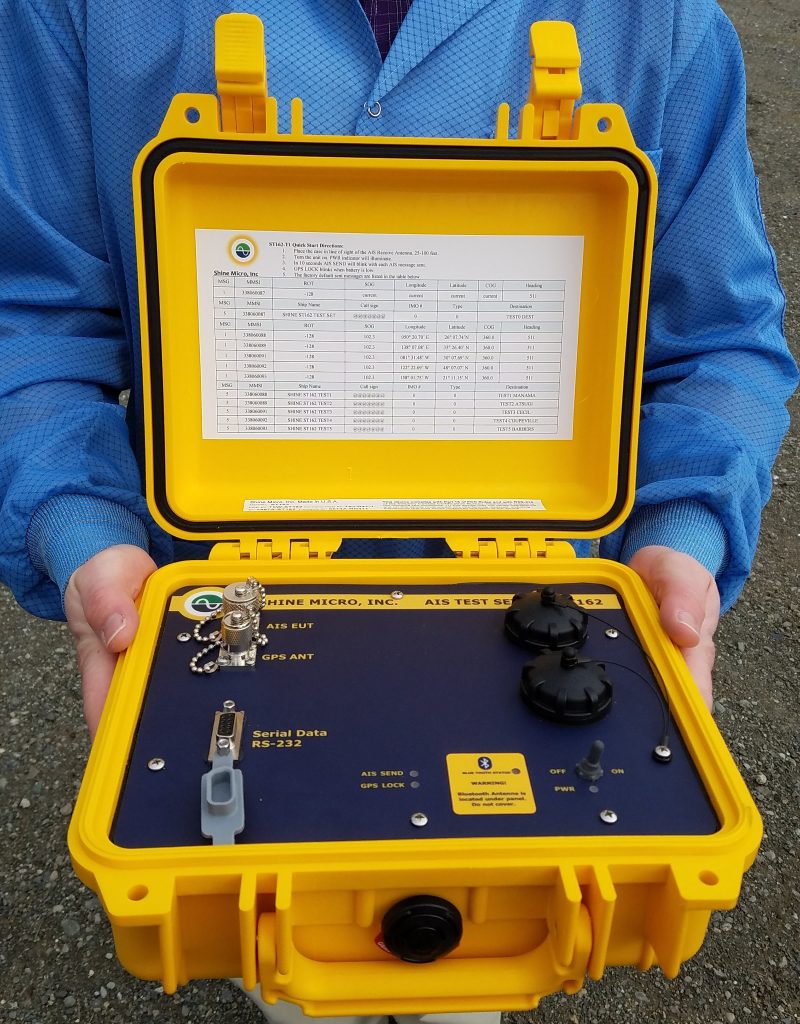 The ST162-T1 features an internal VHF antenna and is pre-configured with 10 AIS messages including 6 unique MMSI numbers, allowing fast and simple operation straight out of the box.  Simply turn on the ST162-T1 and begin testing.
The included PC software enables programming of up to 100 AIS messages. Along with standard ship messages, the ST162-T1 can also simulate an AIS Aid to Navigation (AtoN), Safety Related Message (SRM), Search and Rescue Transmitter (SART) and binary message types.
Appropriate for both lab and field technicians, the ST162-T1 is housed in a compact, rugged, lightweight and highly visible Pelican™ 1200 series enclosure, and is powered by two alkaline C cell batteries. The control panel is protected against exposure to UV, dust, impact and water immersion by IP67-rated hardware. All removable parts, including connector caps and battery covers, are tethered for use on active runways.
Highlights
Generates Up to 100 AIS Messages
Integrated, Internal AIS Antenna
RS232 and Bluetooth Communication options
Fast setup, Lightweight, Simple to use
The ST162-T1 is capable of performing:
Pre-Operational Checks
Identification of Malfunctioning Systems
Field and Bench Testing
Simulated AIS Data
Installation Quality Comparisons
Other Custom Data
ST162-T1 Portable, Rugged AIS Test Set
AIS system failures are most often due to incorrect connections, faulty or damaged cables or connectors, or incompatible display devices or software.  Save valuable time and resources by using the ST162-T1 portable AIS Test Set to quickly and easily verify an AIS installation before each AIS deployment.
ST162-T1: A portable, transmit-only AIS Test Set

System Specifications
Designation: Portable AIS Test Set for AIS
Receivers
User interface: RS232 at 115200 Baud
(Bluetooth available; see Config. Options Worksheet)
Power Requirements: C cell batteries (X2)
(120V available; see Config. Options Worksheet)
Battery Life: 10 hours average
Temperature Range:

Storage: -30 to +70 degrees C
Operation: -15 to +55 degrees C

Compass Safe Distance: 1 meter
AIS Signal Generator
Modulation Type: GMSK
AIS Data Rate: 9600 bits/s (RF Output)
Signal Generator Output: Less than 150 μV/m @ 3m
Emission Type (ITU Class): 16KOFD
EUT Port Output Level: -120 to -90 dBm w/ 20dB attenuator.  Programmable.
(20dB attenuator included in recommended companion product BDL-T162-001 ST162-T1 Quick Start Bundle)
EUT Impedance: 50 ohms
Maximum Duty Cycle: 50%
EUT Port Input Power Level: 25 W maximum
Frequency Accuracy: +/- 2.5 ppm
Dimensions and Weights
Width: 9.68 in.
Length: 10.62 in.
Height: 4.87 in.
Weight: < 7.5 lbs.
Frequencies and Channel Bandwidth
TX AIS1: 161.975 MHz at 25 KHz
Navigation Specifications
Front Panel Features
Power Switch: ON/OFF MIL-S-83731 compliant Toggle Switch w/sealing boot
AIS Direct Output: N-type female w/cap and ball chain
GPS Antenna Input: TNC female w/cap and ball chain
Serial Data: IP67 DB9 female w/ tethered dust boot
LED Indicators: Power, Transmit, GPS Lock, Low Battery, *Bluetooth Status
*Bluetooth available; see Config. Options Worksheet
Mechanical
Enclosure: 1200 Pelican™ Case (Polypropylene Copolymer)
Material Finish: Bright Yellow
IP67 Compliant
Device Compliance
FCC Part 15 Subpart C Section 15.209

IC RSS-210 Issue 8
Warranty Information
Shine Micro warrants its products to be free from defects for one full year from the date of purchase. Shine Micro will, at its sole discretion, repair or replace any components that fail in normal use. Labor and material costs for such repairs or replacement will be free of charge. This warranty does not cover failures due to abuse, misuse, accidents, or unauthorized alterations or repair.