Shine Micro, Inc., an industry leader in Automatic Identification System (AIS) technology, announces availability of extended temperature range and mounting options for the RadarPlus® SA161-MH airborne AIS receiver. The extended temperature range option supports continuous operation from -40° to +60° C and altitudes up to 70,000 feet. The standard temperature range is -15° to +55° C.
Mounting options include Type 1 Aircraft Dzus Rail and Flange mounts.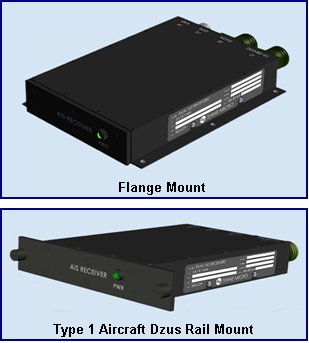 The RadarPlus® SA161-MH airborne AIS receiver is a Mil-Spec solution certified to MIL-Std-704A and F, MIL-Std-461E, and MIL-Std-810E. The unit features:
Industry-leading sensitivity: PER < 20% at -115 dBm
Ethernet and RS232 serial interface for receiving data from the unit
TCP/IP or UDP configurations for the Ethernet module
Integrated 12-channel GPS receiver
Exclusive Shine Micro Enhanced Signal Processing (ESP) software
Alodined aluminum case that resists corrosion and is light weight
NVIS compatible paint
Non-flashing, NVIS-compatible power LED.
Airborne AIS receivers greatly enhance the coverage range of vessel tracking and maritime surveillance applications.
The RadarPlus® SA161-MH provides the most sensitive AIS reception in the harshest of environments and joins a growing line of airborne AIS receivers developed by Shine Micro.
For more information on the SA161-MH, please visit www.shinemicro.com/SA161MH.asp
For further information about AIS, please visit www.shinemicro.com