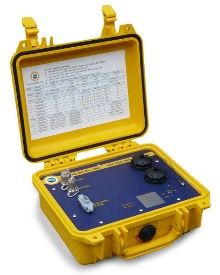 Port Ludlow, WA, April 27, 2011 – Shine Micro, Inc., an industry leader in Automatic Identification System (AIS) products for marine and avionic installations, announces FCC approval in the USA and Industry Canada approval in Canada for AIS Test Set series ST162.
The ST162 AIS Test Set series includes two models: The ST162-T1, used for testing AIS Receivers, and the ST162-T3, capable of testing both transmit and receive AIS installations in accordance with the IMO Circular 1252.
Both T1 and T3 Test Sets come available with optional Bluetooth communication for wireless interfacing with the supplied PC-based configuration software.
The ST162 series will test both marine and avionics AIS systems. This includes everything from quick pre-flight system checks to USCG vessel inspections to equipment bench testing. The ST162 product family is designed with the idea that testing should be fast, easy and effective.
The ST162 series AIS Test Sets are rugged, portable, and run for hours on 2 C-cell batteries. This allows the ST162 to travel to remote locations with minimal effort and maximum reliability.
The ST162 series AIS Test Sets join a growing line of AIS products developed by Shine Micro.