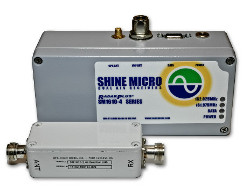 Port Ludlow, WA, October 26, 2012 – Shine Micro, Inc., an industry leader in Automatic Identification System (AIS) technology, announces availability of a new SM1610-4 AIS receiver which incorporates a variety of new enhanced VDL analysis tools and hardware upgrades.
The New SM1610-4
The SM1610-4 incorporates a variety of new features. The SM1610-4 is compliant with the revised standards NMEA0183 v4.0 and ITU-R M.1371-4. Shine Micro has developed new advanced VDL analysis tools. A few of these new features include: output of the number of active slots per frame, garbled packet information, frequency and deviation of the received packet. In addition, the receiver can be configured to output failed messages, including CRC failures, for further troubleshooting and analysis. An upgraded processor and larger memory make these new features possible. The serial port is configurable up to 230.4 kbps accommodating the serial bandwidth to output this additional signal information.
The SM1610-4 includes the latest RSSI monitor software application for displaying the radio output in a graphical format. A Windows based application is included as well which allows customization of the radio output to fit the end user's unique AIS receiver output requirements. The SM1610-4 can also be configured to output in SM1610-2 compatibility mode for customers who prefer a NMEA 0183 v3.0 serial interface.
The RadarPlus® SM1610-4 builds on the proven performance of the SM1610-2 to provide new analysis tools for base station applications
For more information on the SM1610-4, please visit https://www.shinemicro.com/SM1610-4.asp
For further information about AIS, please visit https://www.shinemicro.com