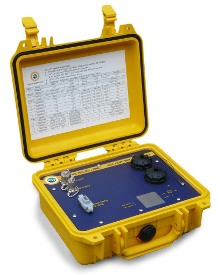 Port Ludlow, WA, February 3, 2011 – Shine Micro, Inc., an industry leader in Automatic Identification System (AIS) technology, announces availability of the ST162 series AIS Test Sets. The series includes two versions: the ST162-T3, designed for testing both transmit and receive installations, and the ST162-T1, for testing receiver installations.
The ST162 series AIS Test Sets verify both marine and avionics AIS applications, including pre-flight, base station, field and vessel installations, and bench testing. Featuring an integrated, internal AIS antenna, the Test Sets are simple and easy to use, requiring only a flip of a switch for operation.
The ST162 series AIS Test Sets are portable, powered exclusively through two C-Cell batteries. Their rugged, IP67-rated construction protects them against water, dust, and UV radiation with the lid open or closed. An external GPS connection allows the user to use the Test Sets' current GPS location.
Configuration options are available through the PC-based graphical user interface, the ST162 Configuration Manager. The ST162 series Test Sets communicate with a PC via RS232 or Bluetooth. Configuration options include:
Program up to 100 messages to initialize at start up
Customize any combination of up to 10 ships, 1 AIS Aid to Navigation (AtoN), 1 Safety Related Message (SRM), 1 binary message, and 1 SART
Program the Test Set's static data and choose to use the current GPS position or saved location
Vary the unit's transmission power from -97 to -66 dBm
The ST162 series AIS Test Sets join a growing line of AIS product solutions developed by Shine Micro.