Port Ludlow, WA, February 23, 2010 - Shine Micro, Inc., an industry leader in Automatic Identification System (AIS) technology, announces the addition of a new site to the Shine Micro Live AIS Network. Raven Marine Services, a yacht management company, has connected to the Shine Micro Live AIS Network and is providing live AIS receiver coverage of Sidney, British Columbia, Canada.
The Shine Micro Live AIS Network displays vessels detected by RadarPlus®, high-sensitivity AIS receivers in that area. These network receivers include the SM161RGN-2, SM161RGNESP-2, and SM1610N-2. The Network now includes the following locations: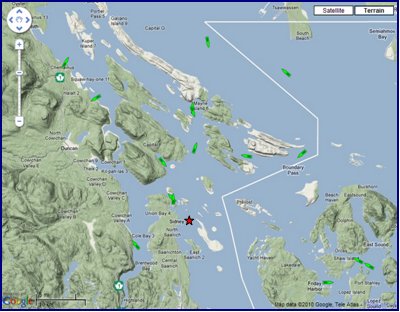 Dutch Harbor, AK.
Sidney, B.C.,Canada
Eglon, WA.
Neah Bay, WA.
Port Ludlow, WA.
Port Townsend, WA.
Astoria, OR.
Los Angeles Harbor, CA.
San Diego, CA.
Honolulu, HI.
Fisher's Island, CT.
Washington, D.C.
Widely used by ships and vessel traffic services (VTS) to identify and locate vessels, AIS technology enables ships to automatically exchange a range of navigational data including position, course, speed, and proximity to other nearby ships, VTS stations, and AIS equipped navigational buoys.

For further information about AIS, please visit www.shinemicro.com
For further information about RadarPlus® network AIS receivers, please visit www.shinemicro.com/network.asp

About Raven Marine Services
Raven Marine specializes in yacht servicing. Having a full service department, Raven Marine offers system design, new yacht commissioning and quality refits, mechanical and electrical systems installation and repair, woodworking and composite repair, and yacht management. Their trained technicians are regarded as the best in the industry and are fully certified on all electrical and mechanical systems.
For more information about Raven Marine, please visit www.ravenmarine.ca
About Shine Micro
Shine Micro products are praised as the most sensitive AIS receivers commercially available by commercial, recreational, and military users alike. The RadarPlus® product line includes an AIS solution for everyone; from individual pleasure boaters to the United States Coast Guard (USCG) and Department of Homeland Security (DHS). Shine Micro is well known for the SM1610 Long-Range AIS Receiver selected by the USCG for the Nationwide Automatic Identification System (NAIS) and the unique, compact design of the airborne AIS receiver, the SA161-UA, designed for integrated use on board the unmanned aerial vehicle, ScanEagle, designed by Insitu of Bingen, WA.
For more information about Shine Micro, please visit www.shinemicro.com
# # #
Contact:

Nathan Swanson
Sales and Marketing
Shine Micro, Inc.
360.437.2503 Voice
360.437.4003 Fax
nswanson@shinemicro.com

Contact:

Brad Marchant
Director of Sales and Service
Raven Marine Services
250.655.3934 voice
250.656.9209 fax
brad@ravenmarine.ca